Sunday, March 09, 2014
Dear Reader,
I've written this week about how to find a second home that you can rent out to generate an income stream. Today, we're looking at one specific location to see how it stacks up. It's Mexico's Caribbean coast, the Riviera Maya.
There are many reasons why I rate the rental income potential of Mexico's Riviera Maya so highly. For starters, this is one location that's very easy to get to. In 2013, 15.9 million passengers used the international airport at Cancun. It is the country's second-busiest airport. It's got direct flights across North America, Canada and Europe. You can fly to Miami in 90 minutes, Houston in two hours 20 minutes and New York in four hours. With so many carriers flying to Cancun fares are competitive. At the time of writing, I found a return ticket to New York for only $399.
Leaving the airport, you're on an excellent highway that runs along the coast, connecting to beach towns like Playa del Carmen and Tulum.
That's hugely important, and not just for you. You'll always get more potential renters if a place is easy to access with affordable airfare. The Riviera Maya gets a full 10 out of 10 score for this one.
It's important to buy a property you'll rent out in a location that's strong for tourism. That's certainly the case in the Riviera Maya. Passenger traffic through Cancun airport in 2013 was up 10% on 2012. Hotel occupancy hit an all-time high at 79.4%. It's predicted that the number of tourists visiting in 2013 was also a new record, around four million. And the government plans to bring even more tourists to this region over the next decade.
Tourists visiting the Riviera Maya come from North America, Latin America and Europe. That's a big plus when you're renting a property. It gives you a cushion if one segment of the market slows down. It also extends your rental season so you're not trying to make a profit in just a few short weeks or months a year. Again, I'd give the Riviera Maya 10 marks out of 10 in this category.
There's a reason this 80-mile stretch of coast is so popular with tourists. Take a look at the photo and you'll see why: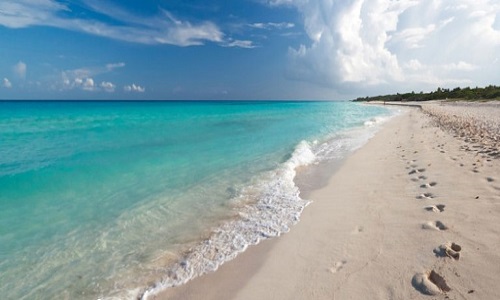 This coast is home to some of the best beaches in the world. They're powder-soft, the perfect contrast to the warm, turquoise Caribbean Sea. Just offshore, the world's second-largest barrier reef is a playground for schools of colorful fish, sea turtles, giant rays, friendly whale sharks and divers and snorkelers.
Those Caribbean beaches are the top amenity in this region. But there's more. Golfers can try out a dozen different courses. Wildlife and bird watchers will love the nature parks and reserves on this section of coast. And history buffs will head straight for the ancient Mayan ruins and pyramids scattered in the jungle.
You can shop in modern malls and supermarkets, dine in gourmet restaurants, grab a massage at a luxury spa and dance the night away in live music joints, bars and clubs.
It's hard to beat the combination of Caribbean beaches and top-notch amenities. Your renters will never run short of things to do. The amenities on offer will appeal to different target markets (golfers, beach lovers, water worshipers) and a broad cross-section of age groups. That maximizes your home's rental potential. I'm rating the Riviera Maya as 10 out of 10 for amenities.
Finally, when it comes to the type of home that will appeal to potential renters, one community in the Riviera Maya has it nailed. It's set in a five-star resort with a long stretch of powder beach, a spa, restaurants and cafes and entertainment and a 27-hole golf course: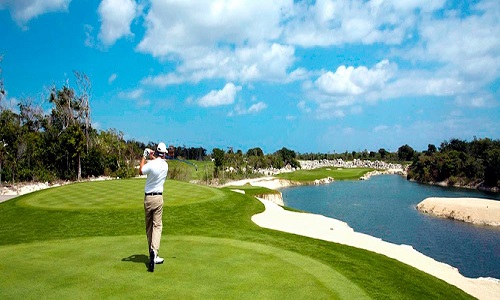 Renters will appreciate having all of these amenities right on their doorstep.
Plus, the community's Wellness Retreat offers yoga and tai chi, lap pools, a gym and juice bar. It also hosts workshops on mind and body healing, shen energy and personal development. That appeals to many of the tourists who visit the Riviera Maya. They're not spring breakers looking for all-night discos, cheap beer and noisy fun. They're into sushi and yoga on the beach at sunrise.
The style and layout of homes in this community will appeal to renters, too. They're modern with plenty of light, an open-plan layout and upscale finishes: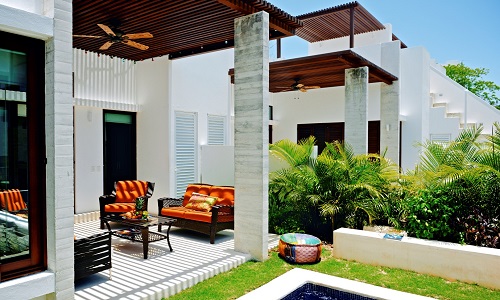 Condos and town homes in the community feature two bedrooms and bathrooms. That's ideal for couples or friends sharing or families.
A couple of owners in the community just launched their rental management program. They'll take care of finding tenants, paying utilities and taking care of cleaning and maintenance. Using their service you can stay hands-off but still earn rental income. You can't always find decent property and rental managers overseas. That helps this community get top marks in this category.
The Riviera Maya, and this exclusive community, deserve a perfect score for rental income potential. It's unusual for me to rate any location a 10 out of 10 for rental potential  but don't take my word for it. Come and see it for yourself, and see how it stacks up for you, on a four-day trip this May 8-11, 2014 for only $180.
Click here to get more details and reserve your spot.
Margaret Summerfield
P.S. You'll pay as little as $800 a month to own a home in Tao…in a resort where vacationers happily pay $1300 a week to stay. Click here to find out more.
Editor's Note: RETA members pay even less, getting a 7% discount off the list price of these condos at Tao. For further details on the many benefits of RETA membership watch this video presentation here.
---
Sign up here for your free Pathfinder Alert e-letter, and we'll send you our $100,000 Report...showcasing 17 real estate opportunities for $100,000 – or Less.
We value your privacy.